Offering thousands of free website templates, a diverse menu of hosting options and a 99.9% uptime guarantee, HostGator hosting is a flexible service, compatible with thousands of easy to install applications that allow users to build or maintain their ideal Web presence.
Pros
Thousands of easy-to-install applications
Free Weebly website builder
Cons
Unattractive control panel
Can feel overwhelming to new users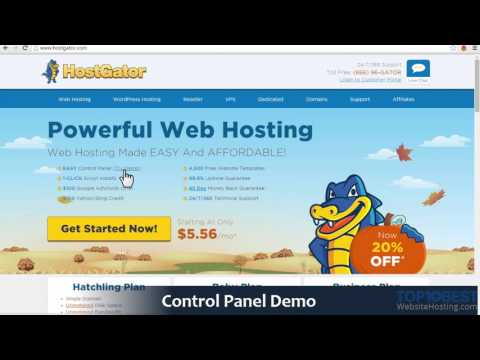 Ideal For
At first glance, HostGator looks to be ideal for anyone on a budget. The company's prices are highly competitive. Looking past price, though, there are quite a few things that make it an attractive option to a number of different demographics.
Users who demand control will appreciate features like HostGator DNS that let them manage their domain. Those that are concerned about uptime (perhaps during an unexpected traffic spike) benefit from HostGator network status updates. Individuals creating their first website will find the site builder and control panels very intuitive and simple to use. Finally, every customer will find the HostGator forum incredibly beneficial when it comes to finding help from the user community.
Hosting Features
The sheer variety of plans is one of HostGator's stand out features. From 3 basic shared hosting plans, to WordPress-specific packages, 5 VPS options, and 8 Windows and Linux dedicated hosting options, there is a lot of range here for users of all shapes, sizes, requirements, and expertise.
Shared hosting plans,most appropriate for individual users and small businesses, include a very low cost Hatchling plan, which you can use to dip your toe in the water or run a small site or blog with limited traffic. Upgrading to the Baby or Business plan will give you more room for your online enterprises to blossom thanks to unlimited HostGator transfer domains, bandwidth, and email accounts. The easy-to-use control panel and HostGator FTP accounts make it a snap for anyone in your office to manage the site, freeing you up to run other aspects of your business. If you're looking for more substantial hosting, customizable VPS plans will take you from .5 core CPU and 500GB bandwidth, all the way up to 4 CPU cores and 3TB of bandwidth, helping you handle everything from big traffic spikes, to sprawling systems with total control. If you need to integrate your social media into your site from HostGator, Twitter, Facebook, and other widgets are available.
Ideal for big organizations with substantial technical needs, HostGator's dedicated hosting plans offer "the ultimate in power, performance, and control," and these servers are available with both Linux and Windows. I really like the HostGator live chat support for dedicated hosting. More control can sometimes lead to more questions. Being able to have a dedicated HostGator contact walk you through an issue can be very beneficial
Hosting Technology
The diversity of HostGator's service calls for some serious firepower behind the scenes. Many hosts offer only Linux or Windows hosting; HostGator offers both. The company's technology allows it to provide most services a web hosting customer from any background might need, all at competitive prices. HostGator SSL certifications provide peace of mind for Ecommerce users. Personally, I would not enter my credit card information on any site that was not SSL certified. Developers will also like that HostGator nameserver software gives them the ability to control the hierarchy of all of the subdomains contained on their site. Couple that with HostGator SSH access and anyone on your tech team could have a secure gateway to the control panel.
Although power-intensive, HostGator also has green credentials, investing in wind energy to offset server emissions and purchasing Renewable Energy Credits (REC) to minimize the environmental impact of their hosting services.
Pricing
I find HostGator hosting plans to be very competitively priced. From web hosting for $2.99 a month to dedicated servers for $108.99 a month, you are not going to break the bank on web hosting. HostGator billing gives you the option to pay less when you take on a long-term contract as well as offers substantial discounts on your first term of use. Below is the current monthly hosting price schedule. (Please note that annual HostGator packages and other promotional discounts are not reflected.)
HostGator Pricing:
Ease of Use
If you have concerns about how easy HostGator web hosting is to use (let's face it, not every provider is a walk in the park behind the scenes), you can explore the host's control panel in its helpful demo. As you'll see, it's not the industry standard cPanel, but the buttons and tools are clearly displayed with obvious sections for tools such as security, software, and services. The control panel doesn't feel especially smooth or intuitive and some educated guessing and trial and error may have to go on before you get to grips with the system.
On the upside, HostGator has done a nice job of giving everyone easy access to the software, apps, and services they want. Just select the "Quick Install" tool and you'll find setup to be remarkably quick and user-friendly. From HostGator Windows hosting, to WordPress and Joomla, to a full spectrum of Ecommerce scripts (including Magento), you can use this useful tool to create a personalized system that works for you with surprising ease. Social media integration is a snap, too. With HostGator, Facebook, Twitter, and other social media widgets can be installed with one click of the mouse.
Website Builder Features
HostGator makes it really easy to build a site using their hosting packages. The provider has partnered with drag-and-drop site builder Weebly, which means you can put together a website in a matter of minutes with no web design experience.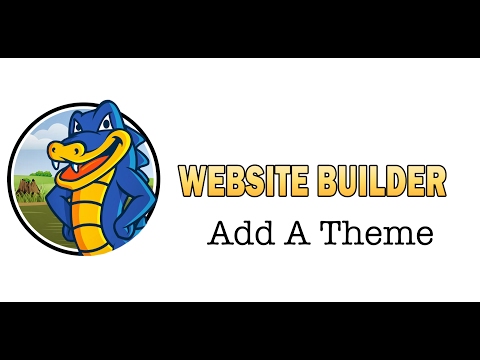 With over 4,500 HostGator website templates from which to choose (and a host of apps, widgets, plugins and scripts available to customize your website), this is an excellent host for site building. The HostGator templates are clean and easy to navigate, resulting in a pleasant user experience for your visitors. The Weebly site builder makes for an effortless building process for you.
Customer Support
HostGator support is well-received and enjoys many positive reviews. With 24/7 support available by phone, email, ticket or chat—plus a wealth of online help resources you can use independently—help is always easily accessible. To make reaching the company easier, users can select from local, toll-free, and international HostGator phone numbers. The HostGator chat staff is very well-trained and is equipped to answer any question, no matter how big or small. Don't forget, too, that you can put HostGator to the test early on and walk away if you're not satisfied, thanks to a 45-day, money-back guarantee.
Free Offers
I really like to get something for nothing. I like it even more when I can let you know where to find free stuff. Unfortunately, with HostGator, I couldn't find any free offers. The company does have very affordable hosting plans and a 45-day, money-back guarantee. I suppose you could look at the first month and a half as a free test drive.
Each plan does include a ton of free features, however. For customers of HostGator, free SSL certificates, advertising credits, cPanel, and the Weebly site builder are all part of the package. There are even 4,500 free HostGator templates and 52 free scripts available to work with.
cPanel
For dedicated server customers, there are three HostGator control panels from which to choose. The rest of their hosting plans only offer one: cPanel. One of my favorite things about this company is its ease of use. Utilizing the cPanel falls right in line with that. The HostGator cPanel login gives administrators access to the most widely-used control panel in the industry. It is difficult to avoid using the word intuitive when talking about the cPanel. Its layout—and even the way its processes run—make performing tasks logical and seamless. The control panel understands what functions are related to each other and guides the user accordingly.
VPS Hosting
Are you in the market for scalable hosting to support your growing business? If so, look no further than HostGator VPS. With several different VPS plans, users should have no trouble finding one to fit their needs. Believe me, HostGator VPS reviews across the board applaud the variety of hosting options. In addition to all of the benefits of using VPS, HostGator delivers free website, domain, MySQL, and script transfers, 4,500 website templates, a site-building tool, and 52 easy-install scripts.
Shared Hosting
As one of the world's largest web hosting companies, HostGator offers a very impressive shared hosting selection. Each of the 3 plans include the latest version of cPanel, unlimited subdomains, FTP and email accounts, unmetered bandwidth, and a 99.9% uptime guarantee. HostGator shared hosting users also receive free website, domain, MySQL and script transfers, $200 in advertising credits, 4,500 free templates, and a free Weebly website builder. I personally like the fact that they incorporate cPanel and Weebly into what are normally introductory plans. Shared customers typically have limited experience running a website. Weebly and cPanel are so intuitive and easy to use that it makes creating and administering a website a breeze.
Dedicated Hosting
Some online projects demand maximum control over the entire server environment in order to achieve optimum power, performance, and security. Those type of websites call for dedicated hosting. HostGator dedicated servers can be run on either Linux or Windows operating systems and with cPanel, Plesk, or WHM control panels. Not every provider can boast that claim. The company's state-of-the-art dedicated multi-layer data center network is fully redundant with bandwidth run through a number of different providers to strengthen security. Just as with the company's other hosting plans, HostGator provides award-winning support, 4,500 free templates, and unlimited databases for its dedicated hosting customers.
Cloud Hosting
With cloud hosting, multiple copies of your online project are stored on servers all over the world. This creates redundancy. This redundancy is a built-in security measure in case one of the servers crashes or becomes corrupt.
HostGator does not offer cloud hosting. However, because it has multiple data centers, it can create redundancy simply by using its own server network. Storing multiple copies of customers' sites at its different data centers gives the same security protections as traditional cloud hosting.
Email
As with most hosting providers, you are going to receive unlimited email POP3 SMTP accounts with HostGator. Though, its entire email suite provides a little bit more than some other hosts do. Your HostGator login gives you access to a wealth of email control features such as auto-responders, mail forwards, aliases, and mailing lists. With HostGator webmail, users can receive email to their phones and other devices with IMAP support, Horde, SquirrelMail, and RoundCube. The company also delivers anti-spam protection with SpamAssassin software. I appreciate the fact that HostGator email goes above and beyond what the rest of the industry provides. In an area like email that is more practical than it is fashionable, it is refreshing to see that the company didn't mail it in, as it were.
Conclusion
HostGator can feel like something of a sprawling service—a jack-of-all-trades and a master-of-none. However, with 8 million customers using the provider's wide range of packages, it's clear that there are a lot of happy gators down in the swamp.
With the technology and support required to sustain such an extensive service, it's no wonder that customers are lining up to transfer their online projects to HostGator. One of the absolute headline features of HostGator has to be its compatibility with over one thousand applications. You won't find many HostGator alternatives that can boast that feat. Its straightforward third-party tools, like the Weebly site builder,make installing your favorite applications simple. Even though the company offers so many services, it doesn't shy away from incorporating other companies' technologies for a better user experience, rather than trying to do them itself and falling flat.
Could HostGator be a good fit for you? Take a bite and find out for yourself.
About
Since 2002, HostGator has developed a good reputation for steady reliability. Recently proclaimed the 21st fastest growing company in the U.S., HostGator is committed to making web hosting easy, accessible and affordable. HostGator reviews speak volumes about their service and their credibility. With clients in over 200 countries across the globe, the company offers hosting packages and products for personal and business needs, alike.